favorite_border
compare_arrows
share
Tent House for Kids Barbie Theme
remove_circle_outlineadd_circle_outline
Buy Tent House for Kids with Barbie Doll theme. Perfect birthday gift for your little one. Give new hideout to your kids. Nylon Sheet, Waterproof Product. Space inside Play house is 95 x 73 Centimeters. 3.5 Feet tall. Even 6 feet man can easily sit inside. Can be used Indoor and Outdoor. 3 to 7 years age can play inside Kids house. Foldable and portable design. It provides comfortable shelter during outdoor trips and activities.
| | |
| --- | --- |
| Theme | Barbie Doll |
| Color | Pink |
| Age | 3 to 7 years |
| Specialty | Waterproof |
Related Products
Discount 0%
more_vert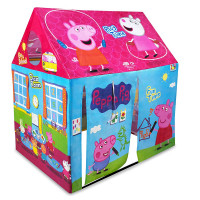 Tent House for Kids Peppa Pig Theme
close
Light weight adorable play house for kids with Peppa Pig theme. Nylon sheet based waterproof play-house. Awesome birthday gift. Make life of your baby adventurous and full of fun. Made in India 3.5 feet tall plastic tent house. This is indoor game for 3 to 7 years kids. It can be installed anywhere in the home. However, it can also place outside home in the garden. ..