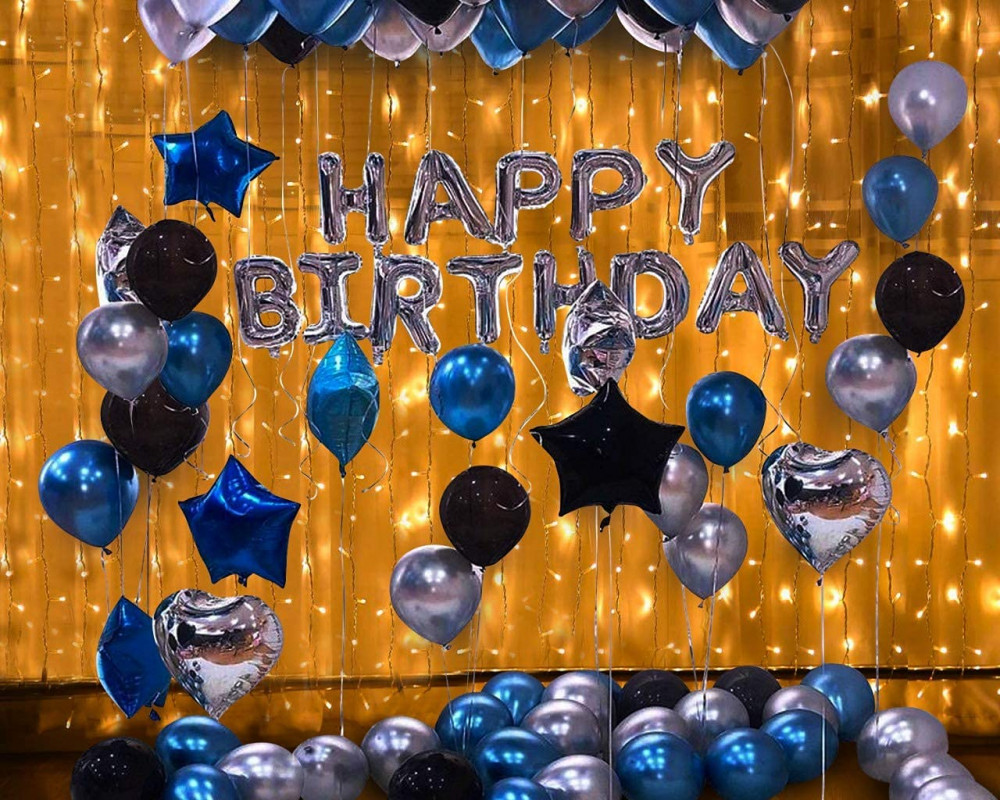 decoration tips for birthday celebration
Date published:

10/05/2022
Making Canopy for small celebrations at home is talk of the town nowadays and people consider it one of the best birthday decoration ideas at home to follow. Gone are the days when people used to consider only balloons for decoration purpose now new trends are coming in the market with more creativity. Though we cannot ignore the charm of balloons which will remain forever and after but adding new tinge to decoration can makes it unique to others. So if you are gearing up to build a canopy decoration for this anniversary, birthday or any other celebration here are some DIY tips for you to follow. You can decorate your home in creative way and that is too without spending much on your pocket.
Stuff you need to meet the purpose of canopy building for decoration
Chiffon or net cloth for making canopy
The primary thing that you need to build a canopy for party decoration is a cloth to hang in creative way in canopy shape. You need not to go out and purchase such cloth from market and you can use dupatta or your suits for this purpose depending upon the colour you like for canopy. It can be same or you can experiment with different colours of dupatta to build a beautiful canopy. The birthday decoration ideas can help you to save money that can be invested to gift something expensive to the birthday boy or girl.
Balloons and balloon stand
Apart from having cloth for canopy you also need to decorate the surrounding area nearby canopy to enhance its beauty aesthetically. Pick out the balloons as per the theme and occasion like if this is25th anniversary decorationyou can select red balloons along with a shade or golden, white or silver as well. Similarly girls first birthday can make your comfortable to opt for the pink or other pastel colours in the category. Apart from balloons you can also buy some balloons stand in order to place them both side of the entrance of canopy.
LED lightening strings
The anniversary decoration ideas also includes LED lights that can enhance the decoration overall especially in the night. People usually build canopy in very beautiful way but fail to give the best touch by hanging LED lights around it. Trust me or not but these lights are going to put a soul in overall decoration of your party home. This thing is going to help you to be unique than others in decoration as majority of people do not put much attention to LED lights which is like the soul of canopy decoration.
Decoration material for background
The anniversary decoration at home demands some more stuff from you if you want to make it perfect in every way. For example you can opt for background decoration stuff like fringes, paper craft, hanging lanterns etc. Sometimes canopy is built in such a way that a mattress bed is placed inside the canopy so you can put this background stuff on the wall of such canopy. It will make it so appealing that you will get appreciation for your decoration work from one and all. There are so many other types of decoration things available at very cheap cost in the market and online shopping sites particularly and you can shop the one you like and find suitable to meet your purpose. Balloons tape is also new thing to add in your paraphernalia as new sort of dot glue for balloons is coming on online platforms these days which is very easy to use.
Mechanism for Building a canopy
1. Place a mattress in the center of the wall and put a spreadsheet on it.
2. Just pick one dupatta put pleats on it and hang it on the wall by deciding a center point in such a way that the upper corner of the cloth seems tied up and low corner is spread apart. The dupatta end should fall beyond the one edge of mattress.
3. Pick another dupatta and repeat the process with this dupatta as you did for the earlier one. It should be placed in such a way that both the dupatta makes an entrance from the front side. More or less we have tried such things with mosquito net when we put it around our bed. It will give a best look to your anniversary decoration definitely. You can add on more dupatta on the back of the canopy which is totally optional and ignore if you have curtain on back wall.
4. The next step is to decorate the entrance by balloons and balloons stand. If it is a theme based decoration you can sift out thematic balloons available on several online sites as well.
5. Just place these balloons stands on both sides of the gate and you can try out another theme birthday decoration ideas to decorate the surrounding near canopy.
6. Put LED strings above the canopy and it will give a life to your decoration.
7. Fringes, paper craft and lanterns etc. can help you to fill the area on the back of canopy to make it ready for party.
This is the way you can make you home ready for party with canopy decoration. All the stuff for such decoration can be obtained from basics 21. It is a sort of one stop destination for all sort of decoration stuff which is not even available in the market. Economic cost, superb quality and vast variety makes basics 21 as best website for party decoration.